Take a front-row seat to hear the stories behind some of Australia's most successful and iconic sports people and business leaders. The show is hosted by Matthew Kidman, former business editor of the Sydney Morning Herald and author of three books. Kidman takes the time to uncover the rarely heard stories behind these successful individuals to give listeners a unique perspective of what makes them tick.
Episodes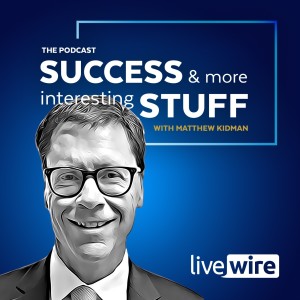 Wednesday Dec 22, 2021
Wednesday Dec 22, 2021
Small-cap specialist Dr John McBain likes to joke that he's still in Australia because he lost his return ticket to Scotland in the 1970s.
In this episode of Success and More Interesting Stuff, John describes how his career in obstetrics and gynaecology took off on his arrival in Melbourne in 1976 and took him in directions no one could have predicted.
From early entrepreneurial success delivering newspapers as a Glasgow schoolboy, this canny Scot surmounted his humble beginnings to become a pioneer in the development of IVF.
From this he profited enough to turn his hand to full-time investing when others might choose to retire. Instead he chooses to engage with entrepreneurs innovating in sectors as diverse as biotechnology, digital agriculture and fintech.
A string of brilliant stock selections, including a major foray into Afterpay before it listed, has made John a prominent figure in Australia's small company environment.