Take a front-row seat to hear the stories behind some of Australia's most successful and iconic sports people and business leaders. The show is hosted by Matthew Kidman, former business editor of the Sydney Morning Herald and author of three books. Kidman takes the time to uncover the rarely heard stories behind these successful individuals to give listeners a unique perspective of what makes them tick.
Episodes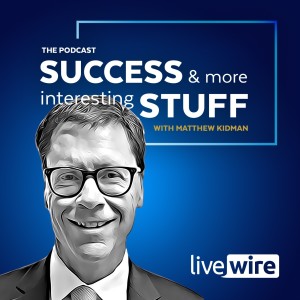 Wednesday Dec 22, 2021
Wednesday Dec 22, 2021
This episode of Success and More Interesting Stuff features high-profile fund manager Geoff Wilson, my former boss and colleague.
I went to work for him in the 1990s — for free, at first, until he could afford to pay me — and cut my teeth in the industry as we jetted around the country seeking investors for his early funds.
Geoff has built a stunning funds management business through the listed investment company structure and today manages $5.5 billion.
In this episode he explains why he likes closed-end capital pools such as LICs and you'll soon see why the market values his funds at more than the sum of their parts.
We take a walk down memory lane to the early days of Wilson Asset Management, revisiting some of the key steps that made Geoff and his company such a success.
We also make a few entertaining detours to laugh about the day an angry investor pinned me up against a wall, and the time we almost got stuck in Melbourne because our airline ran out of money.